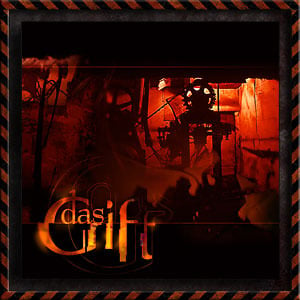 $

15.00
Independently released in 2007, the pensive debut "Das Gift" (German for 'The Poison') stands an elaborate 14-year endeavor with bilingual lyrics, odd meters, and eclectic instrumentation – from piano to electric mandocello and violin. James points to early albums by Siouxsie and the Banshees and the Cure as inspiration for the pounding tribal drums and pipe organ. Smooth vocal melodies and touching piano ballads are woven through the symphonic album.
Rising from the material are the singles, "Perfect Song," "Beautiful Womyn," and the Top Ten placing "Killing Jar." (Indie International Songwriters Competition 2008; OurStage - Gothic/Industrial Sept. and Nov. 2008)
Please select shipping option for your country. Combine items for discounted shipping.
----
Reviews:
"Well, WELL worth the wait… Certainly the most earnest and articulate lyrics of what I've seen lately. Highly recommended." - Gothic Beauty Magazine, USA
"Triply more interesting than [Evanescence]… James' voice seeps in like a velvet wind… Surpassed all of my expectations." - Virus! Magazine, Germany
"A layered, remarkably realized vision… sneaks up on you and ingratiates itself." - Localist Magazine, Arkansas
"The next Pink Floyd… I was transfixed through the entire album… It was at some point in 'I'll Never Leave' that I started to cry. " - Malice Radio, Pennsylvania
"AJ's vocal delivery can be very emotionally penetrating. Only a really anthracite soul would fail to be touched." - MorbidOutlook.com, New York
"Das Gift is a blessing… a great composition of sound, musical structure, and lyrics worthy of a Triple Platinum." - American Gothique, Alaska